Win by focusing on Developers.
38% Top Line Revenue Growth. $642K+ Average Revenue Per Customer.
99.3% Revenue Retention.  133% Negative Churn.
Fastly is at the top of the EEON momentum list which ranks firms based on the relative strength, 3 month % change and 6 month % change.  The company provides developers with a secure and programmable edge cloud platform that is seeing wide adoption, attractive economics and strong retention.  These factors combine to make the company an interesting investment to consider.
Leading Trend: Developer Control with Edge Computing
Fastly has an impressive list of customers that include some of the most innovative companies in the market.  Their customer list includes Google, Microsoft, Amazon, Shopify, Twitter, Slack and Spotify.  Companies are turning to Fastly to make their applications faster and more accessible.  Edge computing is a relatively new way for developers to control more of the architect of their applications.  The diagram below highlights the areas that developers can control in pink.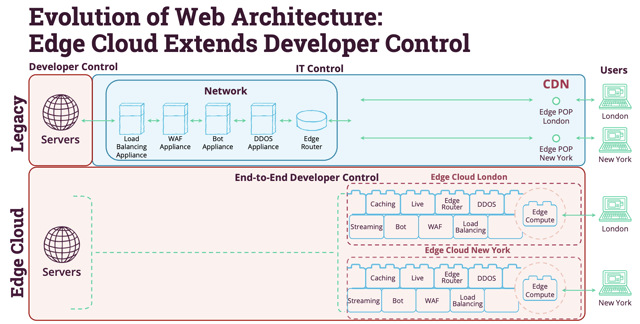 Developers are the decision-makers.  With Fastly, developers are empowered to make technology choices around which cloud platforms, services, programming languages, and frameworks are needed to create new and improved applications.
Fastly (FSLY) Stock Ratings
The market has priced in some lofty expectations at this point.  The company trades at a whopping 25X revenue.  EEON rates the company favorably on all growth (top-line growth) and momentum (relative strength, 3 & 6 month returns) dimensions but poorly on value (PE Ratio, Price to Sales, Price to Book, Dividend Yield, Earnings Yield) and profitability (Profit Margin, ROA, ROE).  This type of fingerprint is common for high growth companies like Fastly.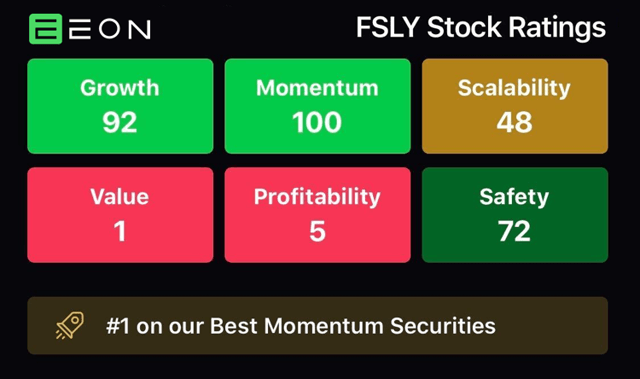 Fastly Top Line Revenue Growth
Fastly's developer first approach is working and it's reflected in their financial performance.  The company went public in May of 2019 with revenue of $144.6M.  They have scaled revenue by 38% to $217.8M as of March 31, 2020.  38% YoY Revenue Grow puts Fastly in the 92nd Percentile of all companies based on revenue growth.
Revenue Per Customer
Management has focused on the enterprise market and this has helped the company scale revenue and also increase the average revenue per customer from $530K to $642K.  They've been able to grow enterprise customers from 82% of revenue to 88% of revenue over that last 3 years.  As with most technology businesses, the focus on larger enterprise customers allows Fastly to generate "stickier" revenue which bodes will for sales efficiency and long-term customer value (LTV).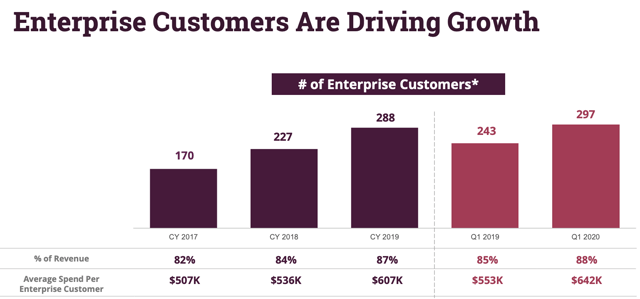 Land and Expand Sales Strategy
Most enterprise software companies execute some type of land and expand strategy.  Fastly breaks it into 3 segments:
Land - Initial Deployment, cloud optimization and redundancy to existing provider.
Adopt - Digital Transformation, move application logic to the edge to allow DevOps to transform workflows
Expand - Edge Compute & Security, build applications at edge to improve customers experience
Land and expand is a really smart way for firms to scale their sales efforts.  Often times firms will start to get accounts that are scattered across numerous industries and maybe have individual users signing up for accounts.  The beauty of this strategy is that one individual account may turn into many accounts and ultimately result in an enterprise account for the firm.  Fastly has proven their ability to execute on this strategy.  You their success showing up in their negative churn figures that are outlined below.
Retention
Growing revenue and increasing the average deal size are key drivers for Fastly but the retention trends are really exceptional.  Fastly is seeing 99.3% revenue retention and expanding revenue by 133% from existing customers (sometimes called negative churn).  You need a product that really drives value for customers to achieve these metrics and Fastly is delivering.

Future Potential
Just think about stocks like Amazon, Google, Salesforce, Netflix, Tesla back in the day.  Everyone said it they were too expensive but they grew into their valuations.  All of this growth comes at price that many investors will find too expensive but if you'll looking for growth and momentum then Fastly is one of more interesting companies to consider.
Conclusion
Fastly is poised for further growth and their developer friendly approach is working.  Developers are in control of decisions these days and technology companies will be well advised to focus on them.  Fastly has the trifecta of strong top-line growth, large and growing average deal size, strong retention and negative churn.  They are the leader in edge computing.  There is a ton of momentum in the stock and company at this point but investors will need to think about how Fastly scales of the next 3 to 5 years to get comfortable with the valuation.