Peloton (PTON) continues to gain momentum as more consumers choose to workout at home.  The company reported 66% YoY revenue growth in the latest quarter and the stock has responded accordingly.  The company is well positioned for future growth.  Management estimates a 14X subscriber growth opportunity based on current estimates of market size.
First Mover
Peloton is the first major technology based workout system to gain scale.  1 million users is no small feat.  They have captured the "Immersive Cardio When You Want It" crowd.  The company was founded in 2012, to accomplish an ambitious goal: bring the community and excitement of boutique fitness into the home.
You can see below that Peloton has been performing well over the past month and has one of the highest 14 day relative strength numbers in the market right now.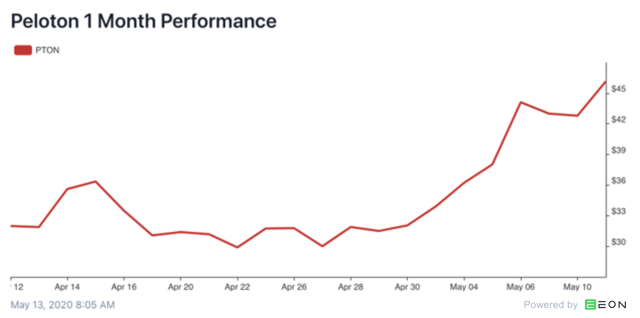 The company is positioned well to continue to invest in the platform.  Similar to Netflix, they have an opportunity to develop the best content to ensure low churn rates and increase their LTV (Lifetime Value).  The company has a 95% 12 month retention rate and did 55 million workouts in 2019.
As they say "content is king",  customers will likely choose Peloton because of their lead in attracting engaging instructors to the platform.  Smaller companies like SoulCycle that have traditionally focused on in person classes are starting to transition to the Peloton model but they lack the deep content at this point.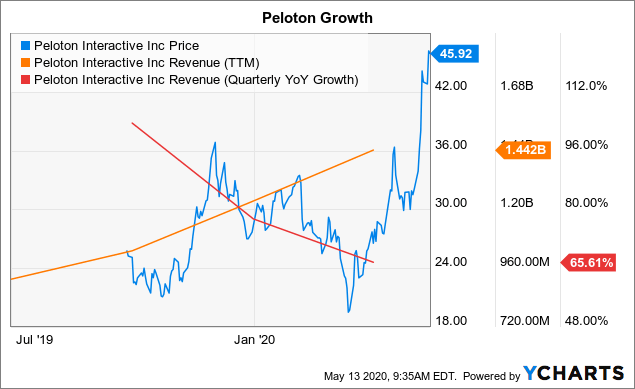 Consumer Trends Favorable:
1. Increasing Focus on Health
Consumers are increasingly aware of the benefits of being physically active and this is driving increased spending on gyms, private workouts and now technology to allow this at home.  According to IHRSA, health club industry revenues in the United States grew at a 5.4% annual growth rate over the last ten years.
2. Streaming Media
Consumers are more comfortable paying for video content.  The quality and speed of streaming content has changed media consumption patterns. Digital video paid subscribers are estimated to have increased in the United States from 37.6 million in 2012 to 167.8 million in 2018.
3. Community
Consumers are looking for experiences.  Peloton provides access to community all in the comfort of your home.  The relatively recent rise in boutique workouts like Yoga, Cycling, Rowing, etc. show that the demand is there.  According to IHRSA, as of 2017, 40% of members of health and fitness clubs reported belonging to a boutique fitness studio, and from 2013 to 2017, membership in boutique studios grew approximately 121%.
4. Convenience
Households are working longer hours and often struggling to achieve work/life balance.  Many consumers are looking for ways to manage their busy lifestyles and this is driving demand for more convenient workout options.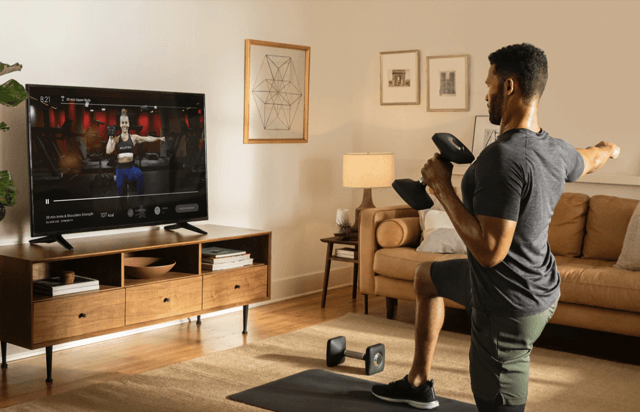 Market Size
The company's TAM is estimated at 67 million households, of which 45 million are in the United States.  Management estimates their Serviceable Addressable Market at 14 million Connected Fitness Products.
According to a 2018 report by the Global Wellness Institute, the total global spend on the wellness industry in 2017 was $4.2 trillion, of which the global fitness and certain categories of wellness, including meditation and yoga, spend represented nearly $600 billion.
Potential Issues
The company is ranks in the 95th percentile for growth and 99th for momentum.   Given the rapid growth and momentum, the market has priced in big expectations for the future.  As you can see below, the company is richly valued and losing money so investors looking to enter the stock will need to believe in the long-term story for Peloton.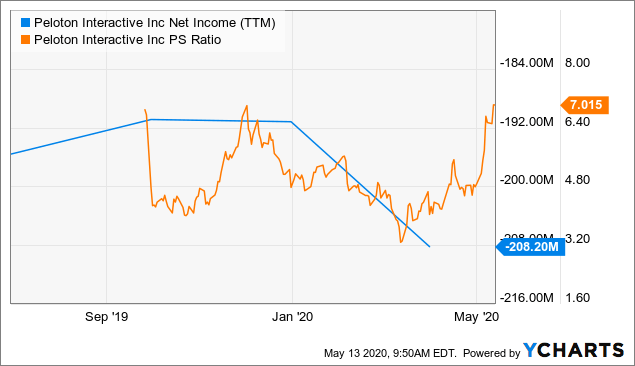 Conclusion
Peloton is a uniquely positioned company with first mover advantage, strong growth, favorable trends and a large market opportunity.  Given that they have 1 million subscribers now, there is still a 14X opportunity as they continue to build market share.